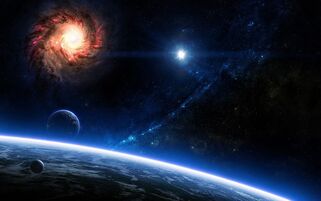 Welcome to the The Fallen: Enemies Of Our Destiny Wikia
Hello! And welcome! The Fallen: Enemies Of Our Destiny (TFEOD) is a wikia dedicated to cataloguing the information of the roleplay by the same name. Originally starting on a small thread on NationStates, our roleplay has grown exponentially, and to a point where it is far larger than originally intended. This has resulted in a need for a place where information about the various space faring factions and the history of our fictional galaxies can be compiled. That place is this wikia.
The thread that started this all can be found here: http://forum.nationstates.net/viewtopic.php?f=31&t=349113
This roleplay is actually still open and ongoing! Meaning that at anytime someone can sign up to join our rapidly growing community! We hope that your time on this wikia is as enjoyable and exciting as the roleplay has been for us.
Description
The Fallen: Enemies of our Destiny is a roleplay regarding the influences and interactions of space faring states. Players may create their own nation and throw themselves head first into the fray that is our fictional universe. In this roleplay, players may experience war, intergalactic politics and intrigue as well as personal stories regarding the leaders of their nation and other characters that reside within it. Dice rolls are not generally used in this roleplay, and the only skills you need are those in creative writing! This roleplay is completely open! Anyone who is willing to join need only contact an administrator to get started!
Latest activity
Community content is available under
CC-BY-SA
unless otherwise noted.